Custom Website Design and Maintenance for Opera House
"​It is always a privilege to work with artists on their website design, and the Tulsa Opera was no different."
Tulsa Opera Commissions Matcha Design to Spearhead the Web Design and Development of Their Website, and Showcase 60 Years of Art and Culture
The Tulsa Opera reached out to us in 2007, hoping that we could redesign their aging website to make it more user-friendly and beautiful. The Matcha Design team was able to piece together photos from previous Tulsa Opera productions, as well as photographs from the shows that were running, to create a beautiful collage that captured the spirit and legacy of the Tulsa Opera. Not only did Matcha Design create the website, but we also maintained the website for many years, ensuring that it remained current with images of the shows that were running at the time.
"You've done a beautiful job with the design" – Tulsa Opera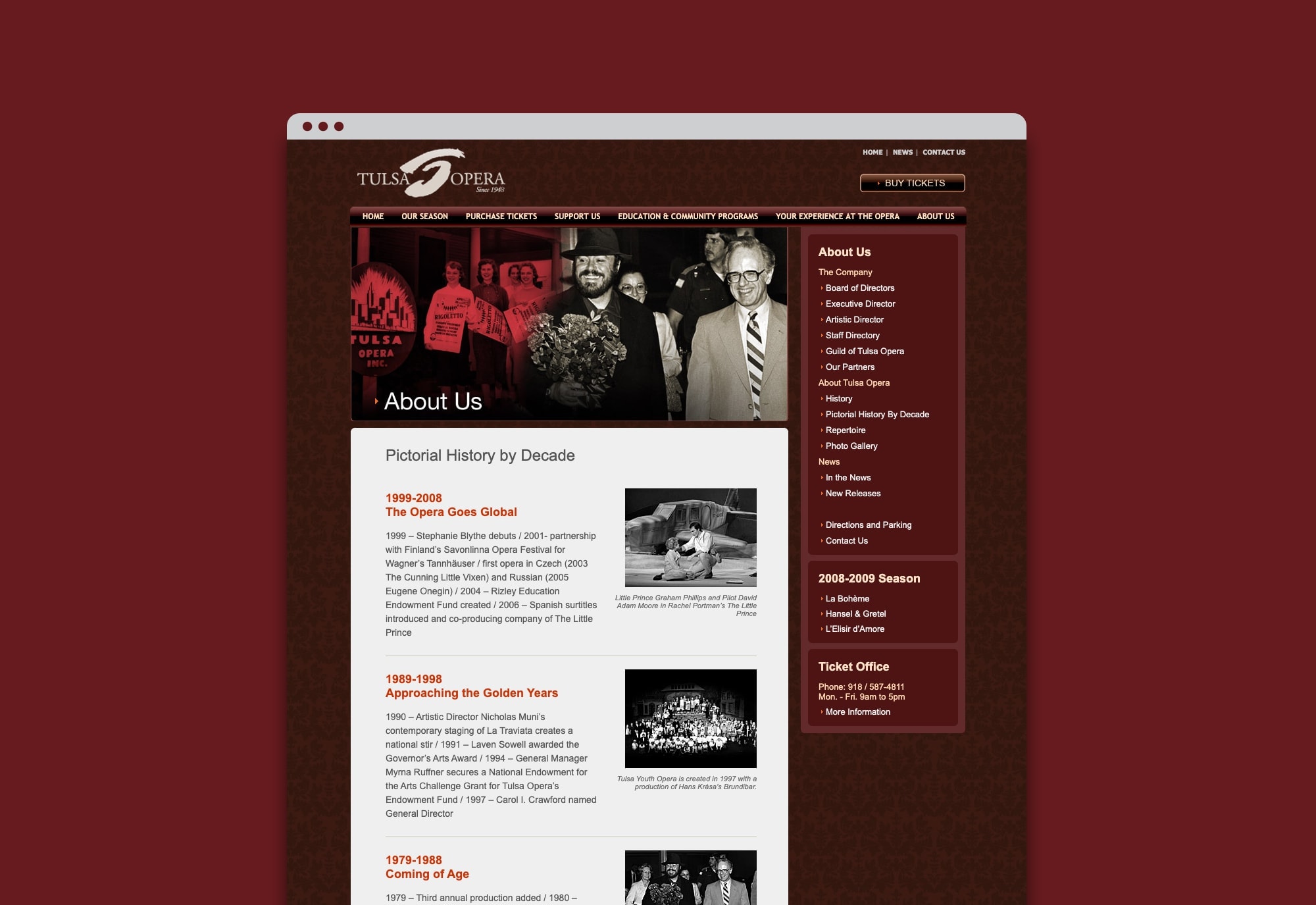 The Tulsa Opera's website was aging. Although it did give theatergoers a basic sense of the types of shows the Tulsa Opera put on, it did little more than that. Theatergoers were not able to purchase advance tickets on the website, which was becoming a problem. The website was also very difficult to update, which was very inconvenient, as a theater website needs to be updated frequently.
We were happy to help the Tulsa Opera create a new, engaging website, and the Tulsa Opera's staff and customers were happy with the result. We created dynamic graphics for all of the new shows, and customers were able to purchase advance tickets easily. Most importantly, however, the new website had a content management system backend that allowed opera staff to make their minor updates to the website whenever necessary. We maintained this website for them for a long time, creating new graphics for shows as they premiered, and archiving old shows that had finished their run.
We were recognized by multiple awards for our work on this website. In 2008, we won first Place in the American Design Awards Semi-Annual, and in 2010 we won two awards: we won gold in the communicator awards and a merit award from the SIA award committee.