Website for an Office Furniture Resale Store
"Pro Office Furniture had a logo, but they needed a brand. Our team did research to understand their niche and create a website to tell their story."
A Branding and Web Design Project That Worked Our Creative Muscles and Our Physical Ones
Pro Office Furniture, a used office furniture warehouse based in Houston, needed a website so they could attract customers. To build an effective website that told their story, they also needed on-site photography and video production help. Pro Office Furniture asked Matcha Design for help developing a website that reflected who they are.
In planning their project, we traveled from Oklahoma to Houston to learn about their brand firsthand. We discovered that though Pro Office Furniture had a logo, it needed a brand identity. Using the logo that Pro Office Furniture already had as inspiration, we created a beautiful website that showcases the helpful and friendly personality of their team, telling their story.
"This project involved on-location photography, video production, copywriting, branding, and, of course, web design and development. "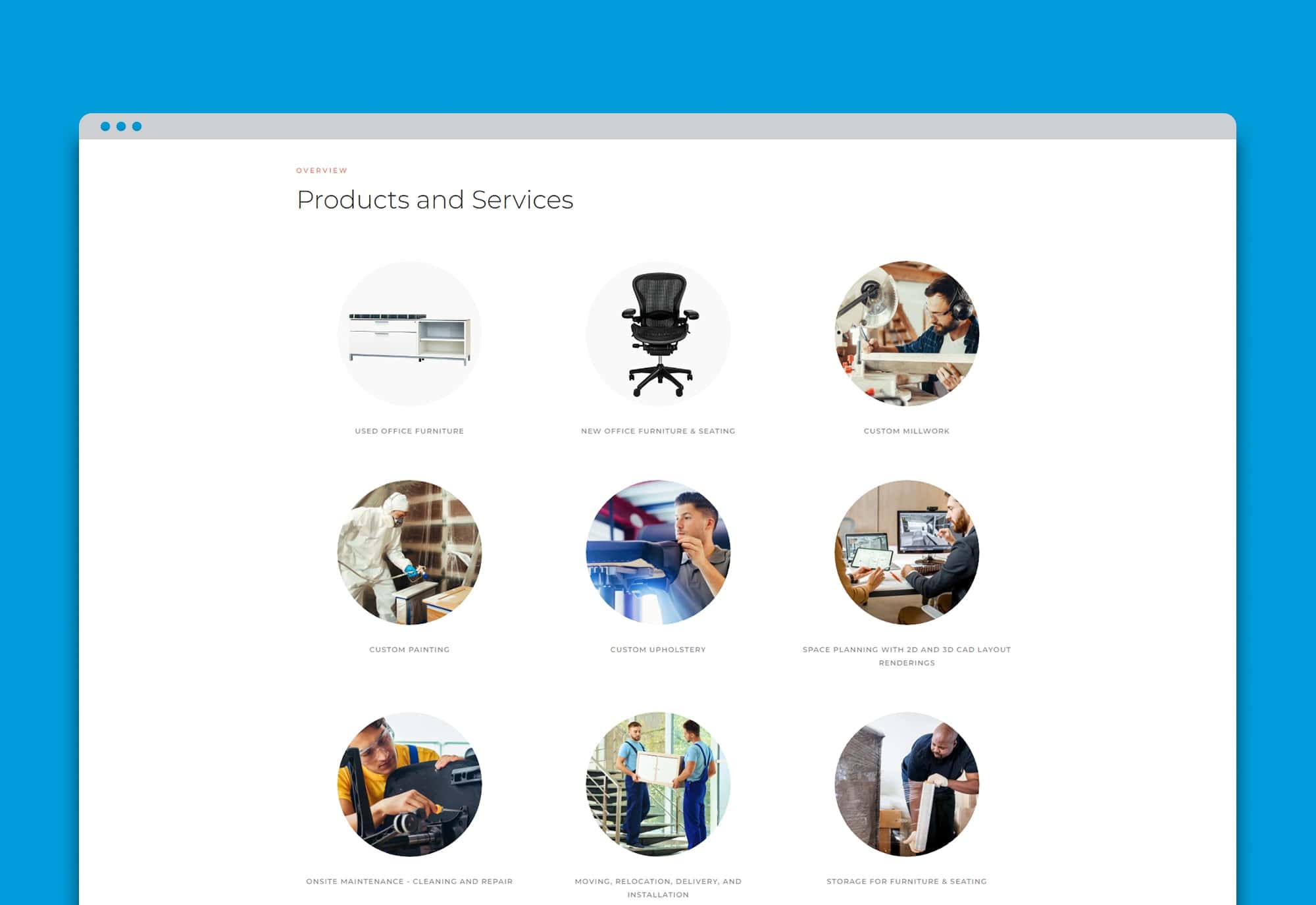 There were several challenges to this project. The first part of this challenge was the travel required. We needed to book a flight to Houston and then work with their team to discover the essence of who they are. Planning and communication were also challenges, due to the extremely busy nature of their business.
An additional challenge came when providing on-location photography. To keep costs low for their customers, Pro Office Furniture doesn't have a studio or showroom. This presented a space challenge to us, as we would need to move large pieces of office furniture in order to photograph each of them. The air conditioning unit wasn't working, so the pieces would need to be moved in 90-degree heat.
The third challenge was when we discovered that Pro Office Furniture needed a brand identity. We needed to discover what the Pro Office Furniture brand was and how to set it apart from its competitors. We had to discover and understand their positioning and niche.
Of course, we also needed to build a website that could provide the functionality of an online store while showing the personality of the Pro Office Furniture brand. We would need to use several tools at our disposal, including professional photography and videography, to tell their story in a way that would resonate with their potential customers.
The Matcha Design team arrived in the warehouse ready to do what needed to be done to create a spectacular website. We did the heavy lifting of moving office furniture with the Pro Office Furniture staff to get individual product photos for their online store.
The Matcha Design team patiently waited while the Pro Office Furniture team helped their customers with questions. We used the frequent interruptions to observe how they interacted with clients and saw firsthand how friendly and exceptional their customer service is. We also took those opportunities to snap photographs of the Pro Office Furniture team working together.
We spoke with the owner of Pro Office Furniture, Chris Huebner, and recorded a smooth virtual video tour of the website.
Upon returning home, our work was far from over. We compiled the information we'd gathered and built a brand identity based on our observations (both in-store and through analytics). Using the colors of their pre-existing logo as inspiration, we designed a website that could seamlessly match it. We added select images that we took during our time in Houston. We created a promotional video from clips that we'd recorded during our time at the warehouse.
To further tell their story, we wrote copy for their website to clearly show their value proposition: providing clients with great products at low costs, for a low ecological impact. We created a blog and provided the first 5 posts using SEO keywords to draw organic traffic to their site.
We created product and service pages to provide the full scope of what they have to offer and created an online shopping cart so that users could shop online for their furniture. We created an "About Us" page showing their friendly and personable staff, putting a face to their company. We wrote a clear statement about their focus on helping businesses and reducing landfill waste.