ScrapPortal.io Trade Show BoothTrade Show Booth Design for a Scrap Marketplace Website
"Our newly designed logo and updated brand really impressed our board members and staff. The design of our booth matched, even feeling next-gen for our Vegas show. We were pleased with the outcomes and the unmatched customer service from Matcha Design."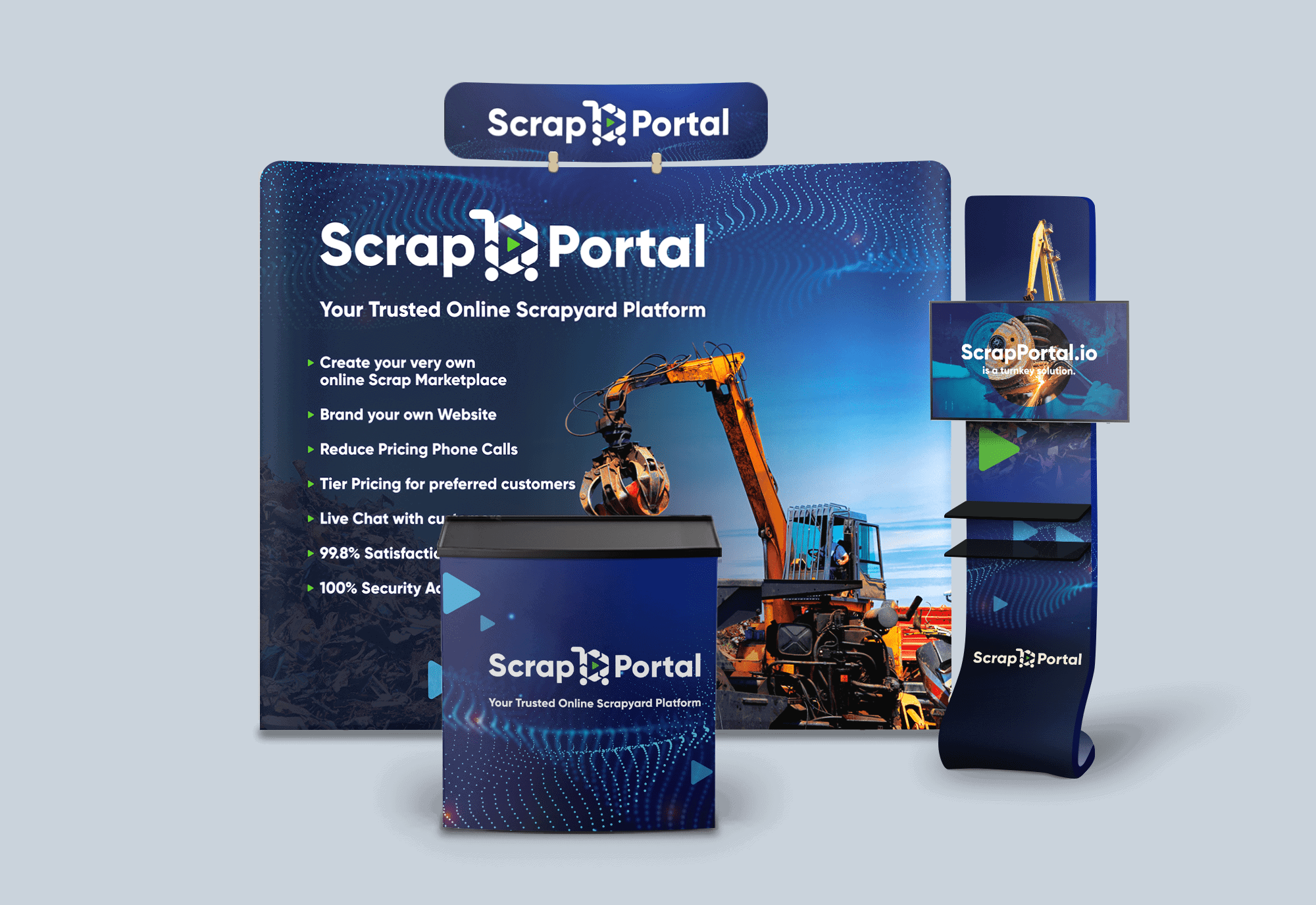 Trade Show Booth and Brand Design Plus Some Crazy Turnaround Challenges, Equal an Interesting Yet Successful Project
ScrapPortal.io, an online marketplace for scrap commerce, needed a vendor booth for its upcoming expo in Vegas. Their design from our team and its corresponding artwork turned out amazing, evolving their current brand into an eye-catching, rememberable piece of craftsmanship. However, due to delays with ordering the design we constructed with the current vendor we acquired, that vendor raised the price to construct the booth after laying out everything to the correct specifications, so Scrap Portal reached out to Matcha Design again for help. Our team performed a rapid turnaround in designing a new booth, contracting with a new vendor at better prices, and getting all the pieces to Scrap Portal for their upcoming show.
"We found ourselves in a tight spot after ordering issues and a fast upcoming show deadline. So, we reached back out to the trusted professionals we knew, Matcha Design. That group had to almost redo everything from our original project but did it scary fast and in a way that assured success. This group is the best!"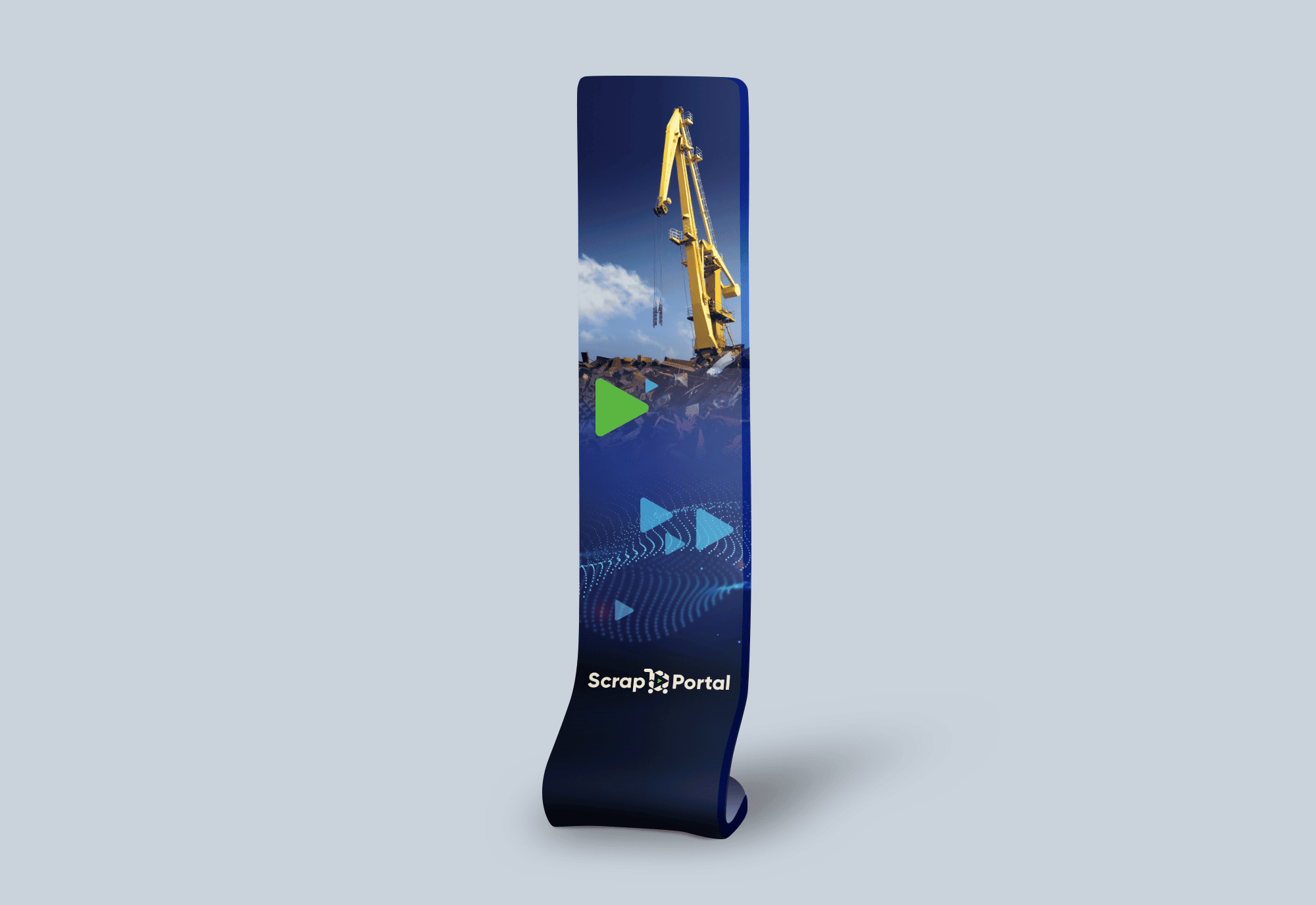 Our team needed to design a presentation booth that could have all the bells and whistles to stand out but be easily set up by a small crew and match the stringent specifications of the client and show. Scrap Portal also needed a new logo to grow its brand awareness and recognition. Designing something for a scrap business can be tricky, to begin with, but we aligned our design with their already created website from another firm. Lastly, once all project needs were accomplished, we faced the enormous challenge of finding a new vendor that could create our design in the time frame needed in order to get everything to Scrap Portal by their upcoming Vegas Expo.
Our creative team researched Scrap Portal's current brand, operations, target audience, current website development, etc., to update its logo and digital appeal in a holistic and all-encompassing way. Our clean and attractive design was sure to catch anyone's attention, represent the company's mission in an art form, and be easily recognizable amongst its industry and competitors. Once completed, our team went with a booth design that could present everything in an engaging and magnetic way but was also versatile in configuration and easy to transport and setup up for any size crew. We took the new branding and ideas we had, matching them to a booth design that facilitates lead generation and growing brand awareness through its layout and use of marketing technologies. The design included the following amenities to assist our client at their expo:
10ft High-Resolution Zippered Tension Fabric Graphic Print
10ft Aluminum Snap-Tube Frame
Header Tension Fabric Graphic Print
Header Snap-Tube Frame
Waterfall TV Stand Tension Fabric Graphic Print
Waterfall TV Stand Snap-Tube Frame
(2) Black Aluminum Shelf kits (Supports up to 20 lbs each)
TV Monitor Bracket (Supports 40″ TV up to 32 lbs)
(2) LED Lights
Durable Hard Case* with Wheels
Podium Conversion Kit, With Custom Graphic Print
These marketing tools worked well with the digital designs and printables our team created to really set Scrap Portal apart as they worked to grow their customer base. However, due to the delays in ordering, Matcha Design was asked to assist the client further in accomplishing its project. The current manufacturing vendor increased the costs by more than 50% of its original quote. Our team quickly hit the ground running and located another vendor that would get the booth built and shipped, meeting our client's original specifications and deadline while keeping the price close to our original quote from the original vendor we partnered with. It only took a few hours due to the hard work of our team, and we still were able to supply Scrap Portal with a next-level booth and design to be the talk of their expo in Vegas.
With the marketing, booth design, and manufacturing vendor in place, Scrap Portal was set for success by our design team.