More than anything else, humans are drawn to stories. For generations, human beings have passed down stories from one generation to the next, keeping traditions and cultures alive. The very word "history" includes story. This is why storytelling is of utmost importance, even in design. At Matcha Design, we incorporate parts of your unique story into every visual we create.
In this article, we will talk about the importance of visual storytelling in graphic design. We'll unpack some of our projects and provide specific examples of how our design strategy was heavily influenced by the overall brand story.  Read on for more information!
Know the Story, Then Tell It
The first step to any visual storytelling journey is to dive deep into brand identity first. There are critical questions to answer before you ever start laying out a design, including:
What problem does your product/service solve? Every brand has a unique value proposition that makes it different from the ones around it. Whether that comes in the form of a specific niche product or offering, exceptional communication, or a high standard of excellence, these qualities make a brand stand out from competitors.
How did your company get started? If the company came from a need the founders saw, discuss that in the brand narrative. An example is how we related that a chance encounter inspired the partner at Pro Office Furniture Houston to open up an office supply resale warehouse to keep good furniture from going to a landfill. As you'll see later, content marketing goes hand in hand with how a company is visually showcased.
Who is your ideal client, and how do you reach them? Proper brand communication involves knowing exactly who the company's ideal clients are and how the company can reach them. Visually, designs and styles communicate different things depending on the audience being reached. Good marketing design involves knowing whether a design will turn off the prospective client or appeal to them.
Experience is the Best Teacher
When you've been creating branding and visual content for as long as we have, there are certain nuances you tend to pick up. Since our design firm has been around for nearly 20 years (and our founder has been in the industry for over 30 years), we've learned to read clients in a way that can't be taught.
Through an onboarding call and subsequent communication with our clients, we learn:
The culture of the company
How they market
The personality of their ideal client
Their target audience
Critical goals for our efforts to be a success
Their brand constraint
What envelopes to push
How to try to push our clients toward greatness
Where not to push
How to challenge a client while keeping them happy
The only way to get to this point is to cultivate and nurture a trusting relationship with the client – and the years of experience we've gained in this industry give us a head-start into the process.
Telling a Story Through Visuals
Using some of our most recent projects, we thought it would be helpful to provide a detailed explanation of our visual storytelling techniques on specific brands.
Pro Office Furniture
The Pro Office Furniture "About Us" page shows you a glimpse of their team. Everything in this image tells you a story and has been thought-out by our team. The angle looks at what their warehouse offers while promoting the idea that the team is here to serve. Their smiles reinforce how approachable they are, and their clothing is both professional and work-ready. The professional composition of the team photo communicates trust to site visitors.
The second shot provides an overhead view of their organized and well-stocked warehouse, suggesting that anything you need for your office can be found here.
The last image is a warehouse tour with a voiceover from the Pro Office Furniture founder as he explains his vision for the company.
1st Church of Sapulpa
Maybe we're biased, but the "Our Story" page for 1st Church of Sapulpa is our favorite. Here are the features that stand out to us:
The logo communicates the church's heart for the lost and the church's location in the heart of Sapulpa, among many other things.
The first image shows the beautiful stained-glass windows that have been a part of the church since it was rebuilt. The windows also show the mission of the church in a unique way – that they are the hands and feet of Christ in their community.
The two following images are historic pictures of how the church was first founded, way back in 1908. The text explains the church burned down after a tragic fire in 1920, but the fellowship of believers rebuilt, undaunted. Site visitors can see a photo of this rebuilding effort as well.
The final image beautifully portrays the church as it stands today, amid a blue sky. The church appears golden in composition – serving as a light to Sapulpa.
Trust-Based Parenting
The Matcha Design team was tasked with creating a new logo for the Trust-Based Parenting ministry logo for Southern Hills Baptist Church in Tulsa, Oklahoma. Here are some of the elements we chose to incorporate:
The branch and leaf are a continuation of the Southern Hills Baptist church logo, which features a tree. The branch surrounds the family, giving the impression of protection.
The color of the logo also complements the Southern Hills Baptist logo – and the word "healing" is the same shade of blue, communicating peace, reconciliation, and healing.
The logo features a family but is purposefully left vague, to indicate that all family types and dynamics are welcome in this ministry.
The text is clear and easy to read, and the image is scalable and clean, indicating professionalism and expertise.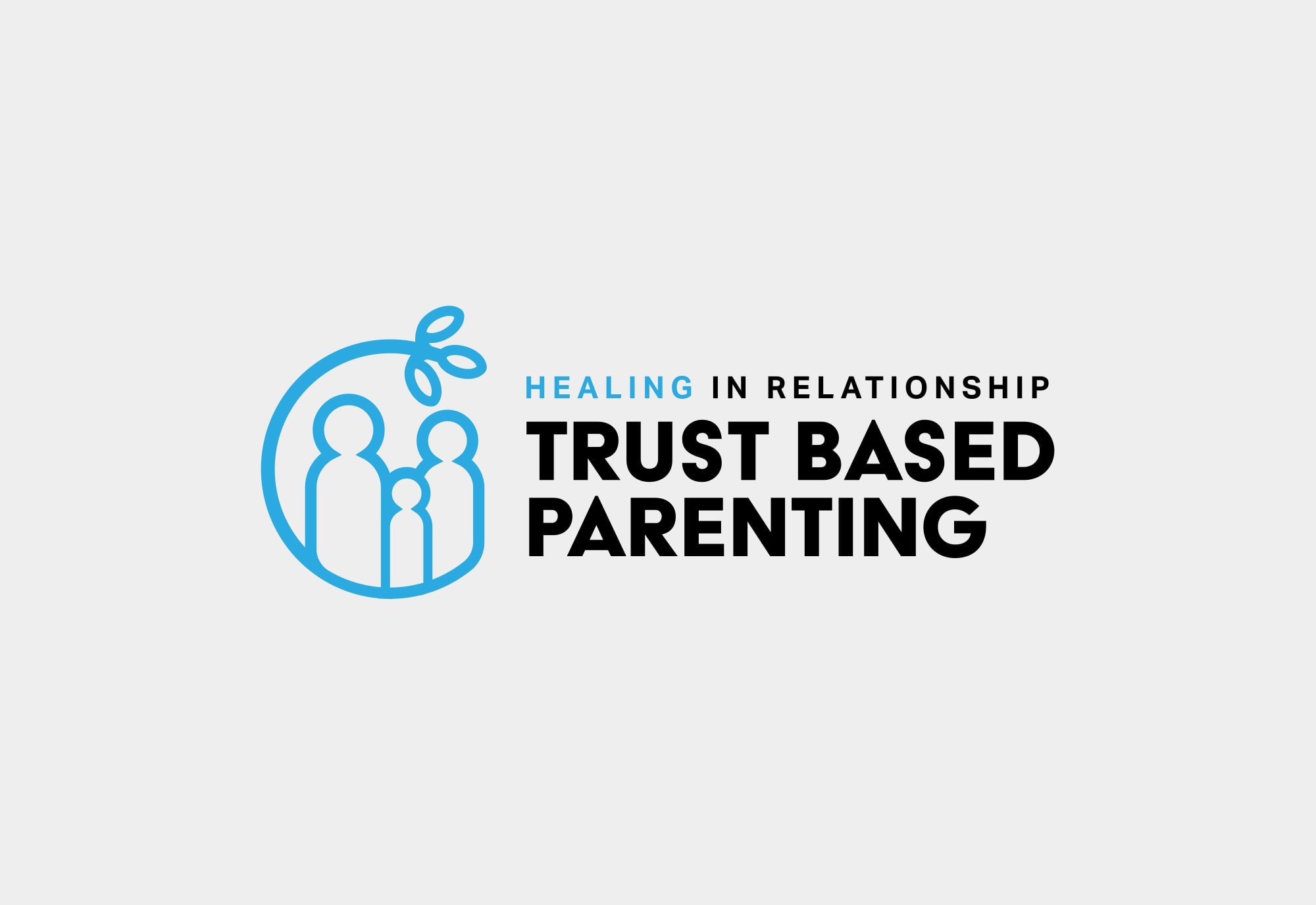 Would you like to upgrade your brand through visual storytelling? Matcha Design is up to the task! Contact us if you'd like help with logo design, web development, professional photography, and more.